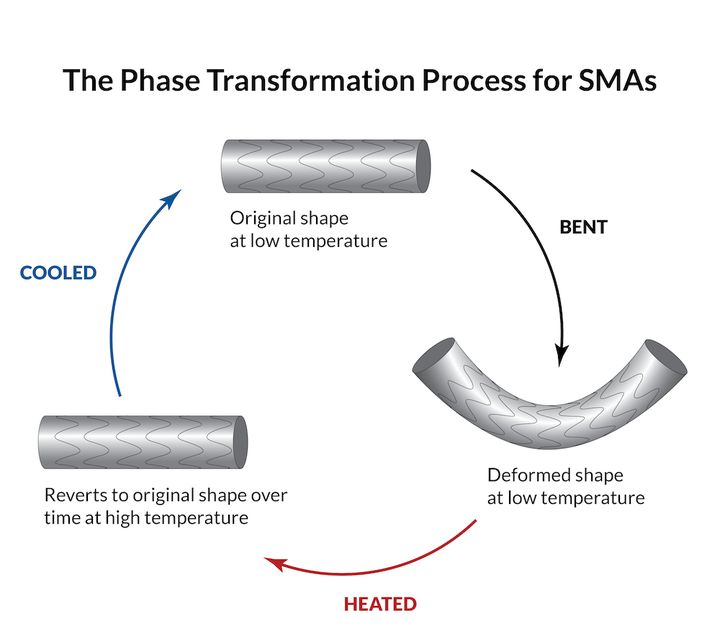 What is a shape memory alloy?
Shape memory alloys (SMAS for short) are alloys with"memory": they can be restored to their original shape after deformation by pressure or temperature changes.
SMA has a wide range of applications, including metallurgy, manufacturing, biomedicine and children's handicrafts, its range of applications continue to expand to a variety of fields.
Shape memory alloys are materials that undergo phase transitions when subjected to mechanical stress or temperature changes. The SMA will "remember" its original shape and revert to its original shape when the condition returns to normal.
The two crystal structures of SMA materials are called austenite and martensite. The former is the structure of the SMA at a higher temperature, the latter is the structure at a lower temperature. The transition from austenite to martensite is the cause of this"memory"characteristic.
Commonly used materials for SMA include copper-aluminum-nickel alloys and nickel-titanium alloys.
The latter is often referred to as Nitinol, which refers to its elemental composition (ni stands for nickel, ti stands for titanium) and where it was first discovered, nol stands for Naval weapons laboratory.
Nitinol alloys invented time
There is another story about the discovery of the nature of the SMA material. Early research on this material began in the 1930s, when scientists studied some unexpected properties exhibited by different metals.
Swedish chemist Arne Ölander discovered and described a pseudo-elastic phenomenon when observing gold cadmium alloys. However, it was not until a laboratory accident about 30 years later that people really began to use the term"shape memory alloy".
Nitinol was discovered by a brilliant young scientist named William J. Buehler. Buehler was a metallurgist at the Naval Ordinance Labs (NOL), working on a project to develop a nose cone for the Polaris missile that was capable of withstanding the heat of re-entry into the Earth's atmosphere. Buehler described this project as 'boring' and was hoping that something 'interesting' would pop up. Well, it did, but not in the way that anyone would have expected. Buehler was looking at alloys with two solid states as possible materials for the nose cone. He had selected roughly 60 alloys for further examination from a book entitled Constitution of Binary Alloys–nitinol being one of them. When he made the ingots for testing, he intentionally dropped one of the cold ones on the floor. Hoping to hear a clear bell-like ring, indicating that the metal had the properties he was hoping for.
Instead, it returned a dull thud–similar to dropping a sack of flour on the ground. Worried that the ingot was filled with internal flaws, he dropped one of the ingots that hadn't cooled yet. This returned a wonderful bell-like ring. However, after the ingot had been cooled in water, it returned a dull, leaden thud, just like the first one. This is the first indication that nitinol had a substantially different double state. Buehler named his alloy nitinol for Nickel-Titanium Naval Ordinance Laboratories. All of this occurred in 1959. However, the shape memory aspect of nitinol wasn't discovered until a lab meeting in 1961. Buehler had been performing tests to determine the fatigue life of nitinol by bending a strip into an accordion like shape over and over again. His project was brought under review and his technician was demonstrating the fatigue properties to senior officials.
During this presentation, one of the officials present heated the nitinol with a lighter, at which point it rapidly straightened out. This, of course, sent ripples throughout the scientific community. This material could take low grade heat and generate mechanical energy! Numerous scientists began experimenting with how to build engines with nitinol that would take low grade energy and transform it into very high grade energy that could be used to do work.